Reno Reinventing Itself Amidst Gambling Decline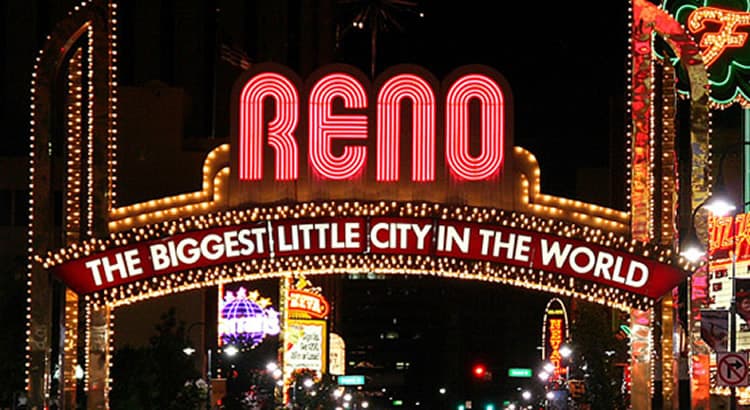 For decades, Reno, Nevada has been known as a destination for recreational gambling that Californians would regularly drive a few hundred miles for. However, the recent influx of legal Native American casinos across California, combined with the allure of Las Vegas, has since made Reno's gambling scene all but obsolete.
Reno's Lucrative Gambling Past
Reno is known as "The Biggest Little City in the World," and sits on the edge of the Sierra Nevada mountains. For decades, the city was known as the gambling capital of the world. Its expansive casinos made it famous, and it is the birthplace of the gambling juggernaut Caesars Entertainment Corporation.
Despite being the second most populous city in the state of Nevada, the majority of its gambling business actually came from either Sacramento or the San Francisco Bay Area of California. Up until the last 20 or so years ago, the city was able to thrive on its casino culture. However, over the last couple of decades, there has been a perfect storm of events that has left Reno scrambling to find new ways to sustain itself. Not only did American Airlines buy out Reno Air in 2000, but it was around that same period of time that Las Vegas began to experience the explosive growth that has allowed it to replace Reno as the gambling capital of the world.
A third, major factor that has played into Reno's rapid gambling decline is the expansion of the Native American gambling industry throughout California. Once Californians had a more convenient alternative to making the hours-long drive across the Sierra Nevada for a bit of gambling, Reno's economy began rapidly losing steam. The city's gambling revenues are down more than a quarter, and some of its biggest names are filing for bankruptcy.
In an effort to revitalize their gambling tourism industry, Reno hosts several major events throughout the year, including a classic car convention, a huge motorcycle rally, hot air balloon races and multiple top-level bowling tournaments. While these events have largely been successful and typically draw large crowds, Reno is still desperately seeking ways to pump life and cash into their economy.
Looking Ahead to the Future
Because there is no way for Reno to compete with the allure of Las Vegas' entertainment and restaurants, the city has decided to explore other options. While Reno officials remain vehement that gambling will not disappear from the culture, they do acknowledge that gambling's influence has waned significantly in recent years. Instead, they are looking to avenues like outdoor attractions, Silicon Valley and even becoming a premier destination for bowling.
A big part of their plan to revitalize and remake the city is to allow major tech companies like Tesla and Switch to move operations into the city. They are banking on assets like low taxes, low cost of living and the city's proximity to Silicon Valley to lure in STEM workers that will have a considerable cash flow.
Experts say that Reno still has a long road ahead if they plan to turn the town into a tech capital, however. The Brookings Institution's director of policy, Mike Muro, co-authored a recent report that found the state of Nevada is falling short in educating its population properly to be able to fill the jobs in science, technology, engineering and math fields.
For now, though Reno is trying to become known as a center of tech innovation, the city is still holding onto its gambling roots for the time being. At night, the bright glow of the popular casino destinations like Circus Circus and Silver Legacy can still be seen, and there are still more seedy, cheap motels than livable apartment spaces in the downtown area. And who knows what the future holds regarding legal online gambling in Reno. As the regulated industry continues to evolve in the United States, legalizing online casino gambling in Reno as well as poker and sports betting may just be their saving grace. No matter what path Reno decides to take in its efforts to reinvent itself, there is no doubt that remnants of its gambling glory days will survive.